The incredibly vibrant and musical city of Cleveland, Ohio is home to numerous outdoor recreational opportunities, a bustling nightlife scene, and the famed birthplace of rock and roll. It even hosted the first rock concert in the U.S., the first shopping mall in Ohio, and Superman himself. It's no secret why Cleveland is one of the best cities for families, students, and young professionals alike. Living here will provide you with endless career options, top-rated universities, easy public transportation, cultural diversity, famous Cleveland museums, and some of the most universally praised healthcare clinics in the nation.
If you're thinking about moving to Cleveland, it's a good idea to know what you're getting into financially before making the big move. While all of the fabulous characteristics of the city sound fantastic, you've probably wondered: is it expensive to live in Cleveland, Ohio? Luckily for you, Cleveland is known for having a rather low cost of living as opposed to other cities of similar size. That's not to mention that Greater Cleveland has the 5th most affordable rent prices out of metro areas in the U.S. Speaking of which, the City of Cleveland Economic Development has a brief guide to the cost of living that you can visit here.
Now it's time to dive into the costs– everything from the house prices to the utilities to the amenities that the brilliant city of Cleveland has to offer.
Cleveland Cost of Living
While every city, town, and neighborhood has its own average cost of living, it's ultimately up to the individual and their circumstances to determine what they owe in expenses. These factors include the size and type of your home, the neighborhood you are in, and the lifestyle you acquire. With that in mind, the cost of living index should not be the key factor in determining what your cost of living will be, but rather a starting point.
Cleveland Cost of Living Index
So, how much does it cost to live in Cleveland? Surprisingly, it is very affordable! The Cost of Living Index (COLI) is based on the cost of living compared to the national average which is set at 100. The Greater Cleveland Metro area has a cost of living index of 93.7 which means it's 6.3% less expensive in Cleveland than in the rest of the country. Likewise, the Cleveland COLI is 2% higher than the state of Ohio.
Take note that the cost of living in Cleveland is 153% lower than in Manhattan, 110% lower than in San Francisco, 58% lower than in Boston, and 25% lower than in Chicago.
Keep in mind that even though the overall cost of living in Cleveland is budget-friendly, the city's healthcare and grocery prices slightly exceed the national averages.
Cleveland Consumer Price Index
Below is the most recent Consumer Price Index for Cleveland, Ohio. The area saw a .2% decrease in two months and a 1.6% increase year-over-year. The CPI for energy over the last recorded year increased by 20.7% whereas food saw a 12.7% increase in 2017.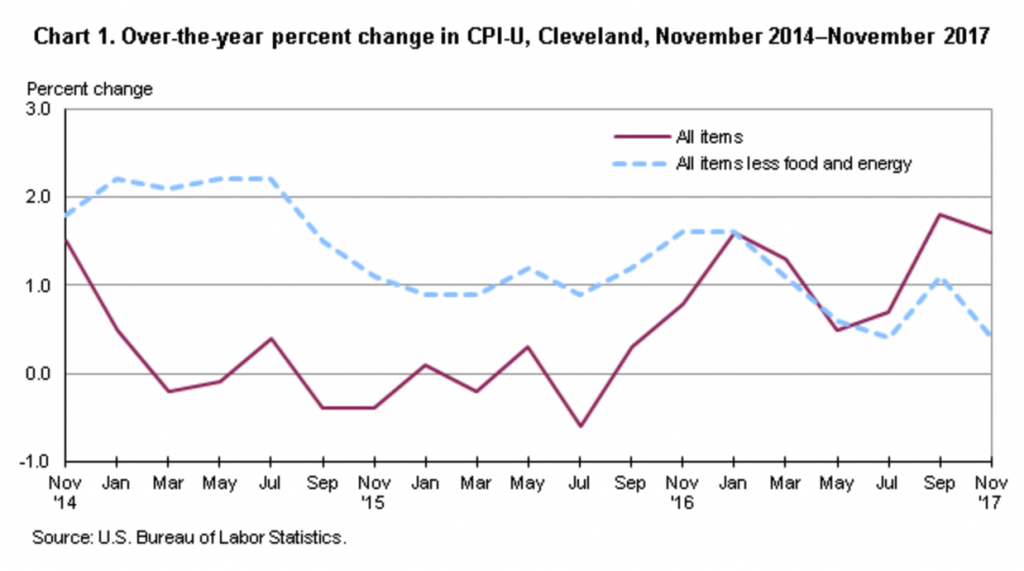 For more recent statistics, let's look at the Consumer Price Index for the Midwest Region– the U.S. census region that Cleveland is in.
Between September 2021 and 2022, the consumer price index for urban consumers in the Midwest rose 8.1%. Meanwhile, food prices increased by 12.7% and energy prices by 20.7%.
BLS Consumer Expenditure Survey in Cleveland
The Consumer Expenditure Survey allows you to view data based on expenses, income, and the consumer's characteristics.
In the Cleveland/Elyria metro area, the average household ended up spending $49,789 per year based on the most recent analytics from 2013-2014. This is 4.77% less than the national average. Surprisingly, expenditures for housing in Cleveland were 33.4% below the national average.
This breakdown shows what percentage the average household spends of their income on each category:
Housing: 31.0%
Transportation: 18.0%
Food: 13.7%
Personal insurance and pensions: 11.9%
Healthcare: 7.4%
Entertainment: 4.5%
Cash contributions: 3.6%
Apparel and services: 3.0%
Family Budget Calculator For Cleveland Ohio – Is Cleveland Affordable?
Curious about how much you need to make to live in Cleveland? According to the Economic Policy Institute, a family of four living in Cleveland would need to make $74,784 a year to live the most comfortably.
If you consider that there are two adults and two children living in the household, here's what you can expect to spend a month:
Housing: $865
Food: $790
Child Care: $1,234
Transportation: $1,128
Health Care: $1,033
Other Necessities: $600
Taxes: $581
Cost of Household Items, Food, Gas & Groceries in Cleveland
Before you head on over to Cleveland, we've made a list of median prices you can expect to pay for everyday items and expenses.
Cleveland Average Grocery Costs
Here are a few average food and grocery costs in Cleveland Ohio:
Steak (ribeye, 1pound): $15.38
Milk (whole, ½ gallon): $1.75
Eggs (1 dozen, grade A): $1.27
Potatoes (5 lb bag): $2.97
Bread (wheat, 1 loaf): $3.98
Beer (Heineken 6-pack): $8.99
Bottle of wine: $9.52
McDonald's burger (¼ pounder): $3.92
A few other common expenses include:
Movie ticket (1st run): $11.71
Doctor's visit: $116.73
Average Cost of Monthly Bills in Cleveland
With data from COLI and Numbeo, here's what you can expect regarding Cleveland's monthly bills.
Average cell phone bill: $183.98
Cable/satellite TV, high-speed internet, and home phone: $69.44
Average monthly cost of Cleveland utilities: $191.73
Public transportation is arguably the most convenient and affordable way to get around Cleveland. Cleveland is served by the Greater Cleveland Regional Transit Authority where monthly passes are made available.
Starting today, you can vote early at @cuyahogaboe for the General Election located along our HealthLine stop, on E. 30th St!

For more info: https://t.co/3NpuIbKNxR#clevelandvotes pic.twitter.com/wL0PmDnRy8

— Greater Cleveland RTA (@GCRTA) October 12, 2022
A monthly Bus/Rapid/BRT pass costs $95 ($48 for seniors and disabled). The regular cash fare costs $2.50. If driving your own car is more up your alley, the average price of gasoline is $3.688 according to the US Energy Information Administration.
Cleveland Real Estate Market
As of September 2022, the real estate growth in Cleveland has slowed while the rent prices continue to rise. This is a widespread occurrence for many other regions in Ohio due to high demand, low inventory, and thus higher prices. You can keep up with Cleveland real estate news here.
Overall, the Cleveland real estate market is somewhat competitive. From the Census Reporter, 39% of residents in Cleveland own their homes. According to Redfin, homes sell in an average of 29 days once released on the market. If you're interested in buying a house in Cleveland, the median home price in Cleveland is $128,000 whereas the price per square foot is $89. 30.5% of homes in Cleveland are sold above the list price.
A townhouse house will cost a median price of $408,750.
Condos here have a median sale cost of $173,500.
If you're on a tight budget and looking for the lowest-cost housing option, you can expect an average cost of just $125,000 for a single-family home in Cleveland.
View this post on Instagram
Not sure if renting or buying is the best option for you? That's where the Price-to-Rent ratio comes in. Imagine you are considering buying a house for $360,000. If the median annual rent costs you $17,899, you will divide the $360,000 by $17,899 which leaves a ratio of 1:20.
If the ratio fell between 1 to 15, buying would be the more beneficial option. A ratio of 16 to 20 indicates that you're probably better off renting, and anything over 21 means you should definitely be renting.
Cleveland has many quiet, safe, and low-cost areas to settle down in. A few of the best and most affordable neighborhoods in Cleveland include Midtown, Kamm's Corner, and Edgewater.
Rental Market – Average Rent in Cleveland
While Cleveland isn't the cheapest city in Ohio to rent an apartment, it's still very affordable. For the most part, you won't have to worry about overpriced and big-budget rent costs while living in Cleveland. The average apartment rent in Cleveland is $1,277 for an 807-square-foot apartment which is about $191 below the U.S. average.
When compared to the nearest large city, the average Cleveland monthly rent price is $316 more expensive than the city of Akron.
One of the most popular and top-rated apartment complexes in Cleveland is Clinton West Luxury Apartments. They maintain affordable costs meanwhile providing luxurious rooms and amenities such as a gym, dog park, and a 24-hour community room.
The most affordable neighborhoods to rent an apartment in Cleveland are Kinsman, Woodland Hills, and Union-Miles Park. On the flip side, the most expensive rent is found in Glenville, Hough and University.
ATTOM has a Rental Affordability Report in case you aren't sure whether to rent or buy during this current time. Just hover over your desired area and you'll find more information about the current real estate market in that particular area.
With the zip code of 44114 and without exceeding 30% of your income on housing, let's look at what you should be making in order to afford rent in Cleveland:
Hourly Wage For A Two-Bedroom: $19.62
Hourly Wage For A One-Bedroom: $16.15
Median Household Income: $ $43,159
Average Salary & Household Income in Cleveland
The average salary in Cleveland is $66,000 per year or $18.55 per hour. Here are a few jobs in Cleveland and their average hourly rate:
Medical Assistant: $16
Licensed Practical Nurse: $23
Administrative Assistant: $17
Maintenance Technician: $20
Registered Nurse: $30
According to the U.S. Bureau Labor of Statistics, here are the most popular industries for occupations in Cleveland and their median hourly wages:
Management: $48.68
Business and Financial: $31.90
Computer and Mathematics: $38.65
Architecture and Engineering: $38.04
These are all above the Ohio median wage of $19.08
Income, Sales & Property Taxes in Cleveland
The state of Ohio has a lot to offer–beautiful landscapes, all four seasons, and no corporate income tax! Instead, it levies a gross receipts tax which ranges from 2.765% to 3.990%.
The income tax in Cleveland is 2.5%. Cleveland's sales tax rate is a combination of both the state and county:
Sales Tax For Ohio State: 5.75%
Sales Tax For Cuyahoga County: 2.25%
Sales Tax For Cleveland: 8%
Ohio ranks #37 out of the 50 states in the U.S. based on the State Business Tax Climate Index.
Cleveland and the rest of Cuyahoga County have an average effective property tax rate of 2.44% which is the highest property tax rate in Ohio.
Your Cleveland property tax is calculated by multiplying the assessed value of your property by the tax rate levied by Cuyahoga County, the city of Cleveland, the Cleveland School District, and your library district. Your taxable value is 35% of your property's market value. One mill is $1.00 for every $1,000 of assessed valuation. Proper authorities vote on the millage rate in which then residents are notified of.
Cleveland vs Cincinnati Cost of Living
Trying to decide on moving to Cleveland vs Cincinnati? Here's a table that will help you determine which city is more affordable:
While the average salary is slightly higher in Cincinnati than in Cleveland, the cost of living in Cleveland is overall less expensive. Considering this, it's safe to say that everything balances out.
Thinking about moving to Cleveland, Ohio? Get ready for an affordable cost of living, diverse job opportunities, world-renowned attractions, and much more! To get started on your relocation, reach out to Summit Moving at 216-641-6677 today for an easy and stress-free transfer to your new home!