Planning on moving to Cleveland? Known as the Forest City, Cleveland is an exciting city with several major sports teams, excellent healthcare and education opportunities, and the Cleveland Metroparks system, one of the country's top-rated parks systems.
Cleveland has 36 official neighborhoods
to choose from, each with its own unique character, amenities, and culture. Choosing just one can be a challenge! Here's an overview of
the seven best Cleveland neighborhoods that should be on your list
with top picks for families, young professionals, outdoor enthusiasts, and more. As you compare the neighborhoods below, note that the average rent in Cleveland is $1,132 according to
RentCafe
. The average price for
Cleveland, OH homes for sale
is $110,000. You can compare average home prices and rent in each neighborhood against these figures.
Tremont – Top Cleveland Neighborhood for Families Known for Arts & Scenery
What makes Tremont one of the best neighborhoods in Cleveland?
It's tied for the safest neighborhood along with Kamm's Corner with 60% less crime than the city average. Tremont is largely residential with a brewery at Cleveland's oldest beer garden,
Forest City Brewery
, trendy boutiques and coffee shops, and tons of great restaurants.
View this post on Instagram
Tremont is already pretty great, but it's still on the rise. Already one of the most expensive places to live in Cleveland,
home prices are up 78% year-over-year in 2022
. Located on a bluff overlooking downtown, you'll enjoy the unique character and architecture in Tremont and its thriving local art scene. The main hub of Tremont is the historic
Lincoln Park
which serves as the town square while the renovated Tremont Park is a great place for enjoying the outdoors.
Ohio City – Trendiest Neighborhood in Cleveland Great for Craft Beer, Food & Entertainment
right across the Cuyahoga River from downtown
Cleveland for an easy commute or more nightlife opportunities.
Ohio City is one of the best neighborhoods in Cleveland for millennials
with high-end, hip bars, beer gardens, lounges, bistros, and gourmet restaurants. The bustling West Side Market offers specialty goods like homemade ice cream – the perfect place to stop after work or meet up with friends on the weekend.
Downtown – Best Neighborhood in Cleveland for Young Professionals
tons of amenities that make it feel like an actual community
– not a commercial area. It's also growing dramatically – the downtown population soared by
48% between 2013 and 2018
alone. There are over 15,000 people living in about 6,660 housing units within a space of just 3.2 square miles. The greatest influx of people into downtown are young professionals under 35 without kids.
View this post on Instagram
Why is downtown one of the best neighborhoods in Cleveland?
Convenience, walkability, amenities, and a sense of community.
While living downtown, you'll be just 15 minutes from practically everything and able to walk or bike to shopping, restaurants, grocery stores, entertainment, and more. There's a free trolley to help you get around and waterfront access. You'll find boutiques and restaurants in the upscale Warehouse District plus enjoy a fun nightlife with the JACK Cleveland Casino,
The Big Bang Dueling Piano Bar
, and the Society Lounge.
MidTown –Historic Up-and-Coming Cleveland Neighborhood with Popular Attractions
transform the community
located right between downtown and University Circle. One of the newest projects is The MidTown Apartments, an upscale new apartment building right next to CSU, the Cleveland Clinic, and RTA Healthline stops.
MidTown is one of the most popular Cleveland neighborhoods for CSU grad students, medical students, and employees of the Cleveland Clinic
thanks to its convenient location. It's also home to top attractions like the Agora Theater and Ballroom, a popular music venue, plus the
Children's Museum of Cleveland
. You'll also find MidTown is one of the most affordable Cleveland neighborhoods, a big perk if you're looking for somewhere affordable near downtown.
Kamm's Corner – Safest Neighborhood in Cleveland Along a Wooded Park and River
family-friendly community is also packed with amenities
like shopping, outdoor recreation, and entertainment. It's even one of the most affordable neighborhoods in Cleveland for renters!
View this post on Instagram
The entire western border of Kamm's Corner follows the Rocky River and the Rocky River Reservation
, a large and beautiful wooded area surrounding the river. This Metro Park features tons of amenities just in Kamm's Corner like the Mastick Woods Golf Course, the Little Met Golf Course, and game fields. You'll find plenty of shopping opportunities with popular retailers and grocery stores along Rocky River Drive and OH-10. It's also home to
Cleveland Clinic – Fairview Hospital
, a major employer.
University Circle – Top Cleveland Neighborhood for Millennials & Students
One of the most exciting neighborhoods in Cleveland
is
University Circle
, the city's cultural hub and home to amazing museums, nationally ranked hospitals, and prestigious universities. That's not all that makes University Circle one of the best Cleveland neighborhoods: this historic district also boasts highly rated parks, an eclectic culinary scene, casual bars, and an ever-changing schedule of events and activities.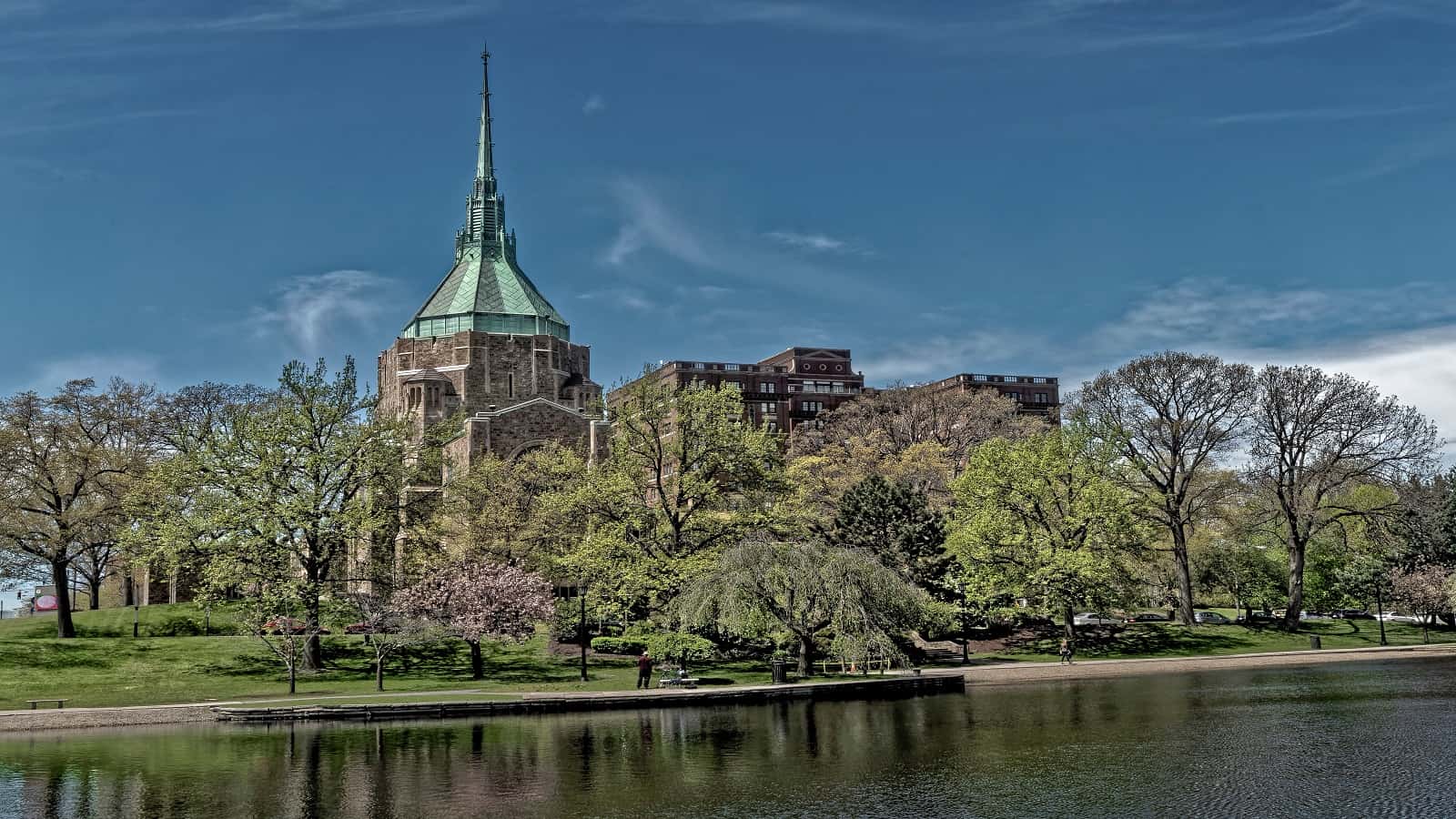 University Circle is home to some of the top schools and attractions in Cleveland like:
Edgewater – Lakefront Cleveland Neighborhood with Amazing Views & Beaches
one of the most desirable neighborhoods in Cleveland
and, surprisingly, one of the most affordable for renters. Edgewater is on the West Side past downtown along Lake Erie.
View this post on Instagram
You aren't just on the water living in Edgewater;
you're walking distance to Edgewater Park and Edgewater Beach
. Head to the shore on a whim for beach volleyball, rent a cabana and spend a summer day by the water, and enjoy ice cream from the concession stand. There's over 1,000 feet of swimming access and kayak access, too, plus a dog beach!
Map of Best Neighborhoods in Cleveland
If you're not sold on living within the Cleveland city limits, don't overlook the exciting options available in Cleveland's best suburbs. Once you've settled on a community you're ready to call home, give us a call at Summit Moving & Storage for a free moving estimate and the top-notch customer care you deserve.