Considering moving to Cleveland, Ohio? Known for the Cleveland Clinic, Rock & Roll Hall of Fame, and Lake Erie shoreline, Cleveland offers a low cost of living, thriving economy, and great quality of life. Cleveland is nicknamed C-town, the Forest City, and the Rock and Roll Capital of the World. Despite its fairly small size, the city is packed with attractions and some of the Midwest's most beautiful parks. It's even been home to many famous residents like director Wes Craven and comedian Drew Carey, whose Drew Carey Show was famously set in Cleveland.
Cleveland is located in Cuyahoga County on Lake Erie and the Cuyahoga River 115 miles east of Toledo. Founded in 1796 by General Moses Cleaveland, it wasn't long before the city's location on Lake Erie and river helped it become a major manufacturing center. In its early history, Cleveland was a major stop on the Underground Railroad and then a crucial center for the Union Army during the Civil War. By the beginning of the 20th century, Cleveland was called the Sixth City because it was America's 6th largest city at the time.
During this prosperous period, and due to Cleveland's long history of social and political activism, it became a major destination for waves of migrants and immigrants. After years of rapid growth, Cleveland's population began to decline in the 1960s as residents began to move into the suburbs. Today, it's enjoying a period of economic improvement and diversification and improvements to the downtown area which had declined for decades.
Cleveland is still known for its more liberal attitude, diversity, and rich cultural attractions. Its growth today is fueled by a wave of millennials, young professionals, and young families ready to embrace its history, culture, and affordability. Cleveland offers a fun nightlife, family-friendly activities, and an urban playground with nature preserves and parks encircling the city. Here's what you're going to love about living in Cleveland, OH.
Cleveland Population & Demographics
The population of Cleveland is 381,000 within a total area of 82.5 square miles. The metro population of 2 million lives within 3,979 square miles. The median age of people living in Cleveland is 35.7 years with 48 males for every 52 females.
Cleveland is a melting pot with many ethnic groups represented. The racial and ethnic composition is 49% Black or African American, 40% white, 12% Hispanic, 2.5% Asian, and 4.5% two or more races. During the city's early history, its manufacturing industry attracted many immigrants from Italy, Ireland, and people from the Ottoman, Russian, German, and Austro-Hungarian empires. Today, Cleveland still has a large population of the following ancestry groups:
Italian (particularly Little Italy and Mayfield Road)
Irish (West Park and Kamm's Corners)
German
Central-Eastern European including Czech, Hungarian, Polish, Lithuanian, Romanian, Russian, Ukrainian, Serbian, Slovenian, and Croatian
Puerto Rican accounting for 80% of Cleveland's Hispanic population
Asian communities are mostly concentrated in Asiatown and include people primarily from China, South Korea, and Vietnam
View this post on Instagram
There is also a historically large Jewish community in Cleveland, mostly in the East Side like Cleveland Heights and Beachwood. Cleveland's Black population grew rapidly between 1920 and 1970 during the First and Second Great Migrations.
Cleveland is Ohio's most diverse city with many other ethnic groups represented including Armenians, Lebanese, Syrians, Albanians, Greeks, Iranians, Turks, and Scots.
Cleveland's foreign-born population was 42% in 1870 and 30% in 1920. Today, Cleveland's foreign-born population is just 6%but it's as high as 33% in Asiatown and 17% in downtown.
One of the most unique places to witness Cleveland's diversity is the Cleveland Cultural Gardens with 33 gardens cultivated and designated by nationality and culture.
Cleveland Climate
What is the Cleveland weather like? Cleveland has a humid continental climate with four seasons. While living in Cleveland, you'll have harsh, cold winters, hot summers, and big temperature changes between seasons. Cleveland gets 38" of annual rainfall, average for the U.S. Be prepared for lots of snow; Cleveland gets 54" of snow per year on average!
The summer high is about 82 degrees in July while the winter low is about 22 degrees in the winter. There are around 100 days per year with nighttime temperatures below freezing but it rarely gets below zero. There are nearly 150 rainy days per year.
The best time to visit Cleveland is during the spring from April to May or the fall from September to October. You'll enjoy the most pleasant weather with daytime temperatures in the 60s and 70s while skipping the freezing winter and hot, humid summer weather.
Getting Around Cleveland
Cleveland is served by I-71 which runs through the southwestern suburbs and connects Cleveland to the airport, Cincinnati, and Columbus. I-77 runs from downtown to the southern suburbs and to Akron. I-90 is the Innerbelt and connects the two sides of Cleveland. While living in Cleveland, you'll be served by the Cleveland Hopkins International Airport (CLE).
Unfortunately, Cleveland does not have a great public transit system. Cleveland is mostly car-dependent, but it does have a mass rail transit and bus transit system operated by the Greater Cleveland Regional Transit Authority. The Rapid has three light rail lines and one heavy rail line. There's only one city center rapid transit station in Cleveland: Tower City-Public Square.
View this post on Instagram
While Cleveland isn't particularly walkable (57 Walkable Score out of 100), there are many neighborhoods where you can get around on foot. Want to ditch the car while living in Cleveland? Consider living in University Circle, Downtown Cleveland, Ohio City, Detroit-Shoreway, or Buckeye-Shaker Square.
Cleveland Crime – Is Cleveland, OH Safe?
Cleveland has a lot of great things going for it, but a low crime rate isn't on the list. The Cleveland crime rate is 5,984 total crimes per 100,000 people compared to the national average of 2,580 crimes/100k people. You have a 1 in 17 chance of being the victim of crime in Cleveland. Here's how that breaks down:
1,517 violent crimes per 100,000 people (national average: 382 violent crimes/100k people)
4,467 property crimes per 100,000 people (national average: 2,362 property crimes/100k people)
The Cleveland murder rate is 24 homicides per 100,000 people compared to 21 in Cincinnati and 9 in Columbus. The national average homicide rate is 5 murders per 100,000 people.
In a recent study, Cleveland was ranked #162 out of 182 for America's safest cities. By comparison, Akron was #105, Cincinnati was #133, and Columbus was #147.
However, crime in Cleveland is concentrated in a handful of areas. Here are some of the most dangerous neighborhoods in Cleveland:
North Broadway (pop. 5,300) has 60% more violent crime than the city average
Central (pop. 11,500) has 2,146 violent crimes/100,000 people
Stockyards (pop. 7,500) has 41% more violent crime than the Cleveland average
Woodland Hills (pop. 7,500) has 2,122 violent crimes/100,000 people
There are many safe places to live in Cleveland! Some of the safest neighborhoods include the following, all with 36% to 60% less crime than Cleveland as a whole.
Kamm's Corner (pop. 19,000) has 60% less crime than the Cleveland average and less crime than the national average
Tremont (pop. 6,500)
Ohio City-West Side (pop. 9,000)
University District (pop. 8,000) has 2,698 total crimes per 100,000 people
Downtown (pop. 9,000)
Edgewater (pop. 7,500)
A good way to find a safe neighborhood ahead of moving to Cleveland is to use a Cleveland crime map.
View this post on Instagram
Cleveland Economy
Cleveland's location along Lake Erie and the Cuyahoga River has long played a vital role in its economy. Cleveland was once known for its manufacturing industry which helped it rapidly grow thanks to an influx of immigrants. Cleveland is now the corporate headquarters for many companies like KeyCorp, Sherwin-Williams Company, and Applied Industrial Technologies. Major sectors of the Cleveland economy include manufacturing, healthcare, finance, and technology.
Jobs in Cleveland, OH
The average salary in Cleveland is $63,000, according to Payscale, with an average hourly rate of $17.92. The Cleveland median household income is $26,600. This compares to the U.S. median of $55,300 and the Ohio median of $50,700. However, the median household income depends on the neighborhood: in Downtown Cleveland, it's $38,800 and it's $50,800 in Kamm's Corner.
Here's how much you can earn in common occupations after moving to Cleveland:
Registered Nurse: $30/hour
Customer Service Representative: $15/hour
Project Manager: $68k
Software Developer: $64k
Data Analyst: $54k
Major employers in Cleveland are:
University Hospitals
U.S. Federal Government
Cuyahoga County
Cleveland Metropolitan School District
KeyCorp
Case Western Reserve University
Progressive Insurance
The best places to work in Cleveland according to Glassdoor are the Cleveland Clinic, Progressive Insurance, Union Home Mortgage, Medical Mutual, Case Western Reserve University, Nestle, and MetroHealth System.
Cleveland Cost of Living
How much do you need to earn to live in Cleveland, OH? Despite being one of the most expensive metro areas in Ohio, the cost of living in Cleveland is very affordable! The Cleveland cost of living index is 96.6. That means it's just below the national average.
Groceries and healthcare are about 5% above the national average, but almost everything is affordable while living in Cleveland. The housing index is 82.4!
Cleveland Typical Living Expenses
To help you assess the cost of living in Cleveland, compare prices you pay now to these average prices in Cleveland.
Movie ticket: $11.20
Half-gallon whole milk: $1.63
Dozen eggs: $1.43
One-pound ribeye steak: $14.31
One-pound chicken breast: $5.45
Gym membership: $37.23
The average monthly utility bill in Cleveland is $159.61
According to Numbeo, a family of four would have $3,656 in living expenses without including rent.
Cleveland Taxes
Before moving to Cleveland, consider how taxes will affect your cost of living.
The Ohio income tax rate is 2.85% to 4.8%.
The Cleveland sales tax rate is 8.00%. This includes the Ohio state tax of 5.75% and the Cuyahoga County sales tax of 2.25%.
The Cleveland property tax bill is about $2,600 per $100,000 in assessed value per year. The area of Cleveland in the Shaker Heights school district has the highest property tax rate in Cleveland at about $4,000 per year per $100,000 in assessed home value.
Ohio has one of the country's highest average effective property tax rates of 1.48%. Cuyahoga County has the highest property tax rates in Ohio. Learn more about property taxes in Cleveland here. You can also see property tax rates by community in Greater Cleveland here.
Cleveland Real Estate – Home Prices & Average Rent
Planning to buy a home after moving to Cleveland? Be prepared. Home prices in the metro area are very affordable compared to most cities, but home prices are rising rapidly.
Cleveland was named one of America's 15 hottest housing markets in 2022. During 2020, home prices in Cuyahoga County rose faster than at any time since 2008 with the median single-family home price increasing by $15,000 in about half of the cities in the county.
The average home price in Cleveland reached $56,500, up 19% from $47,500. In the suburbs, the median home price increased to $167,500 from $149,000 in 2019. Cleveland home prices hit a bottom of $25,000 in 2012.
Check Cleveland, OH homes for sale to just see how far your money can go in the metro area.
Planning to rent? The average apartment rent in Cleveland is $1,152 according to RentCafe. That's higher than Cincinnati and Columbus, but still lower than nearby Cleveland Heights and Shaker Heights.
View this post on Instagram
Your money can go far as a renter or homeowner. For instance, you can enjoy one of Cleveland's most luxury apartment buildings with rent starting at just $1,525. Mariner's Watch Apartments in Hingetown, Ohio City boasts lakeside living, downtown views, and amenities like a panoramic roof deck, outdoor plaza, electric car charging, and a fitness center with lake views.
Best Cleveland Neighborhoods
Ready to explore the best places to live in Cleveland? From family-friendly Cleveland neighborhoods to exciting communities for millennials and young professionals, you'll find something to fit your lifestyle and budget. Here are some of the best neighborhoods in Cleveland to explore.
Ohio City – Trendy Cleveland Neighborhood with Entertainment & Nightlife
Looking for an exciting place to live? Ohio City is one of the best places to live in Cleveland for millennials. This hip community is known for the West Side Market, high-end bars, lounges, and gourmet restaurants. You'll find plenty of nightlife on the Cuyahoga River and you're right across from downtown for an easy commute in the morning.
View this post on Instagram
Kamm's Corner – Safe Neighborhood in Cleveland for Active Families
This charming neighborhood is one of the best neighborhoods in Cleveland for families. Kamm's Corner is one of the safest places to live in the city and one of the most affordable. It's located right on the Rocky River Reservation and surrounded by pristine woods and golf courses. It's popular with families, active adults, and people working in the neighborhood's Cleveland Clinic – Fairview Hospital.
Downtown – Exciting Cleveland Neighborhood for Young Professionals
It's one of the most expensive areas of Cleveland, but downtown has so much to offer. Home to 15,000 people within just three square miles, downtown Cleveland has grown dramatically in the last decade with a huge influx of people under 35. You'll be 15 minutes from almost anything and enjoy great walkability to entertainment, shopping, dining, and more.
View this post on Instagram
Edgewater – Beautiful Lakefront Community in Cleveland
Want to enjoy Lake Erie right at your fingertips? Edgewater is one of the most prestigious Cleveland neighborhoods. Located in the West Side, you'll be walking distance to the beach for swimming, kayaking, and beach volleyball.
Great Restaurants in Cleveland, OH
What food is Cleveland known for? Paczki, Polish Boys, and Pierogis are some of the most iconic Cleveland foods. After moving to Cleveland, you'll fall in love with traditional Polish Boys, kielbasa sausages on a bun topped with fries, BBQ sauce, and coleslaw. Here are some of the best Cleveland restaurants that will have you feeling like a local in no time.
Gillespie's Map Room. This neighborhood pub with an aviation theme is one of the best places to grab a Polish Boy. Order the Drew Carey and don't be afraid to get messy! Gillespie's Map Room, 1281 W 9th St, Cleveland, OH 44113 (216) 621-7747
Blue Point Grille. This upscale, multilevel seafood restaurant boasts skyline views and excellent service. It's one of the best places to eat in Cleveland for a special occasion! Blue Point Grille, 700 W St Clair Ave, Cleveland, OH 44113 (216) 875-7827
The Bourbon Street Barrel Room. This fun New Orleans-inspired Cajun restaurant makes for a fun date night in Cleveland! There are two bars, rotating craft beers, and an exciting atmosphere that's always a hit. The Bourbon Street Barrel Room, 2393 Professor Ave, Cleveland, OH 44113 (216) 298-4400
View this post on Instagram
Top Things to Do in Cleveland
From top-rated museums and attractions in Cleveland to some of the region's best parks and live music venues, there's always something fun to explore. Here are some of the best things to do in Cleveland with kids, friends, or on a beautiful summer day.
Cleveland Attractions
Cleveland Entertainment & Arts
Cleveland Museums
Cleveland Parks & Outdoors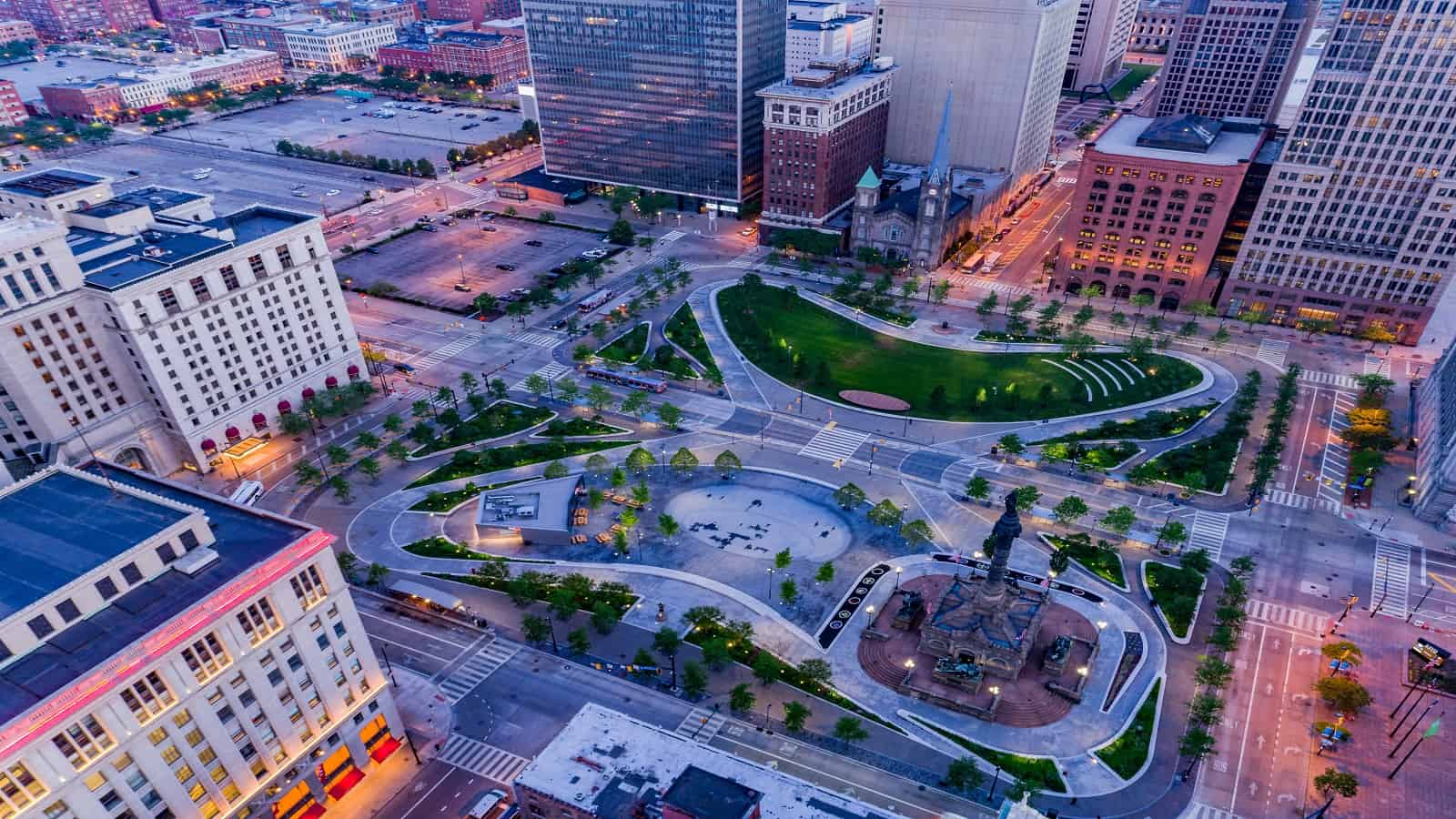 Cleveland Shopping
Tower City Center is a mixed-use historic shopping center on downtown Cleveland's Public Square.
Steelyard Commons is one of the best shopping centers in Cleveland anchored by Target, Walmart, and other big-box retailers.
Westgate Shopping Center is a mall in Fairview Park redeveloped into an open-air lifestyle center with anchors like Kohls, Target, and Lowe's.
Map of Things to Do in Cleveland
Cleveland Sports
Cleveland is one of the best sports cities in America! Despite being a rather small city, it's one of the only American cities with a team in 3 out of 4 major pro sports. Here's who you'll be rooting for while living in Cleveland:
Cleveland Browns (NFL)
Cleveland Cavaliers (NBA)
Cleveland Indians (MLB)
Cleveland Monsters (American Hockey League)
The Browns have been one of American football's most successful franchises in history, even though they've never played a Super Bowl.
View this post on Instagram
Cleveland Healthcare
Cleveland has some of the best hospitals in the United States. Most hospitals are in University Circle. The renowned Cleveland Clinic operates a large campus in Cleveland, 11 affiliated hospitals, and 19 family health centers. It's typically ranked as one of the top hospitals in America and the world. It was ranked the #2 hospital in the world by Newsweek behind the Mayo Clinic with national rankings in 14 adult specialties and 10 children's specialties. It also operates the Cleveland Clinic Children's Hospital.
Cleveland is also home to the University Hospitals Cleveland Medical Center which operates the Rainbow Babies & Children's Hospital plus the MetroHealth System, one of Cleveland's only Level I trauma centers.
Cleveland Schools – Private & Public Schools Plus Higher Education
Moving to Cleveland with kids? You'll be served by the Cleveland Metropolitan School District which is the only district in the state under the mayor's direct control. The district's John Hay Early College High School is ranked #7 in the Cleveland metro area and #25 in Ohio.
There are several parochial and private schools in Cleveland. Here are some of the best:
Benedictine High School which offers a medical internship with St. Vincent Charity Medical Center through the BenMed Program.
Cleveland Central Catholic High School
St. Joseph Academy with an athletics department that received a recent Award of Excellence
St. Martin De Porres High School which partners with over 100 local organizations for a corporate work-study program
View this post on Instagram
Considering higher education? Cleveland is home to several prominent universities and colleges:
Case Western Reserve University (CWRU), one of the region's top research and teaching universities and #40 in America
Cleveland State University (CSU), the only four-year public university in Cleveland
Cleveland Institute of Art
Cleveland Institute of Music
Cuyahoga Community College with a downtown campus
Ohio Technical College
Setting Up Utilities in Cleveland & Getting Your Ohio Driver's License
As you prepare for living in Cleveland, make sure you're ready for the logistics of relocating. Before moving in, it's a good idea to get your Cleveland utilities set up in your new home and be ready to get your new license. Here's what you should know.
Electricity is provided by two electric companies: Cleveland Public Power (CPP), the municipal power provider, and FirstEnergy. Follow the links to start electricity service online.
Dominion Energy is the Cleveland natural gas provider. Click here to start natural gas service.
Cleveland Water supplies water to Cleveland residents. Call 216-664-3060 to transfer water service to your name.
You must get an Ohio driver's license within 30 days of establishing residency in the state. You can transfer an out-of-state license to Ohio by visiting a deputy registrar license agency.
Excited to experience first-hand everything that C-town has to offer? Summit Moving & Storage is ready to help you get settled into your new neighborhood with an easy, stress-free moving experience. Give us a call today to get started with a free Cleveland moving quote!