Decorator, Designer, & Professional Services
From Decorators and Designers, Architects, Office Furniture Specifiers and Manufacturers, Kitchen Design Firms, Cabinet Makers and Contractors, Summit Moving understands that your customers have high standards for care and delivery.
How We Help You Manage Your Project
• There may be a lot of furniture being ordered and the client wants all of it installed at once.
• For a large kitchen cabinet order, some parts may be back-ordered and Summit Moving will receive and hold the entire shipment until it is ready.
• A designer wishes to have several pieces of furniture delivered at once, but doesn't want to have all the packaging and debris on-site. Further the designer would like to have several pieces of furniture moved to accommodate the new pieces. In this case Summit Moving will remove the packaging at our warehouse, carefully pad wrap the new furniture for transit and delivery, and then assist the designer with in-house moves of furniture to meet the desired plan.
• A home is being extensively remodeled. Summit Moving takes several pieces to our warehouse to accommodate the contractors. Summit also receives several new pieces at our warehouse. Once the construction is completed, we deliver back everything according to specification.
• A developer is building a model home. Furniture is ordered well ahead of time but cannot be stored on-site during construction. Instead, everything is shipped to Summit's warehouse, inspected, assembled, and delivered on-site when needed.
Service Options
We offer a variety of service levels, tailored to our customers' needs. It all starts with a delivery to our warehouse. Our trained staff will receive the furniture or equipment and based upon the customer's request, take a range of actions, the most common:
• Make a visual inspection of the box to ensure that there is no transit damage and place the item in storage.
• Remove the item from packaging, inspect and assemble, properly protect, and carefully place the item in storage.
Our clients notify Summit Moving of delivery needs and we schedule the delivery. Our trained crews will deliver the items per customer requirements, again according to plan:
• Make a curb-side, garage, porch, or inside the door delivery.
• White glove delivery which can include full set-up, debris removal and even disposal of unneeded furniture.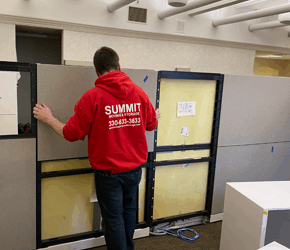 Making it Happen
Decorators have a high expectation of creating a seamless comfortable environment for their clients. Let us help!