Summit Moving History
You don't become a highly regarded local moving company overnight!  Summit Moving has been moving families and businesses since 1956. Take a stroll down memory lane to learn more.
Summit Moving was founded in October 1956 by Bill Ault. Bill had 3 young kids during WW2, and was working a critical job at Republic Steel. He had a strong desire to be his own boss and starting from about 1945 he was doing part-time moving and driving a moving truck for other firms. After a short stint driving buses for the City of Cleveland, he relocated his family to Akron and started Summit Moving with a small office on West Exchange St. He would answer phones, book a move, then go out and do the move himself! As soon as his sons Charlie and Ritchie were old enough to work they joined in and assisted their father in the family business. Back in the day, they would collect newspapers, re-roll them neatly into rolls and use the material for packing paper!
By 1960 Summit Moving was growing nicely and the business relocated to Kelly Avenue near Goodyear Tire & Rubber and about then Summit Moving became an agent for Republic Van Lines. In the 1970's son Charlie Ault became a driving force in the industry and spent a lot of time investing in sales efforts, solidifying relationships with many of the larger Akron-based companies. A key account for Summit Moving was the Girl Scout cookie sales, which Summit Moving handled for over a decade.
After a small fire broke out in their Kelly Avenue facility in 1968 the Ault's starting looking for a larger facility, settling on some acreage at our current site on East Tallmadge Avenue in Akron. By 1979 Summit Moving opened its new facility, expanding in 1986 and is still in business at this location today.
Summit Moving became an agent for Wheaton Worldwide in 1975 after the founder of Wheaton, Ernie Wheaton knocked on the door and talked to Charlie. Charlie started a long and fruitful relationship with Wheaton, winning Agent of the Year and many sales contests. Summit Moving is no longer an agent for Wheaton Worldwide
In April, 2017 Charlie Ault sold Summit Moving to Jim Myers and Brian Booth, who continue to own and operate the company. In June 2018, Summit Moving acquired the assets of the Jerry Vencl Corlett Movers & Storage Company, Inc.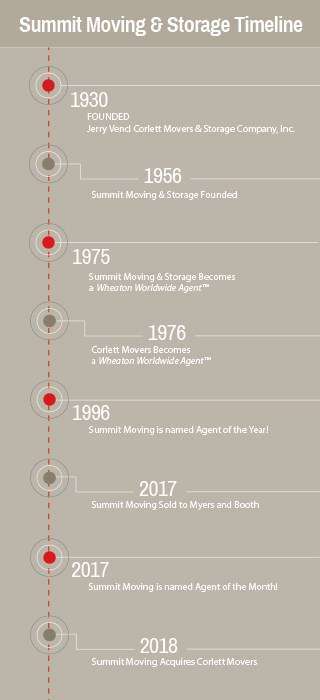 Corlett Movers – History
Corlett Movers was established in 1930 by Jerry Vencl Sr., a Czech immigrant to Cleveland. After migrating to the United States in 1922, he worked in the moving industry and in 1930, Vencl started his own moving company, naming it after Cleveland's Corlett neighborhood that he relocated to in 1936. He kept the Company moving during the Depression by transporting WPA workers to and from their jobs. In 1942, Corlett expanded its services to include warehousing and storage. After the war, Jerry Sr's son ran the business with his father.
Corlett began offering long distance moving in the late 1940s, acting as an agent for Greyhound Van Lines, Ivory Van Lines, and King Van Lines. Corlett Movers was the first among Cleveland moving companies to offer its customers safe storage in private vault containers, which were loaded at the origin residence and then transported to their destination. Another generational shift occurred in 1970 when grandsons, J.J. and Ken Vencl, who had worked with their father and grandfather, took charge of Corlett Movers. The company became an official agent for Wheaton Van Lines in 1976. Corlett Movers is no longer an agent for Wheaton Worldwide
The History of Corlett Movers was partially provided by Case Western Reserve University.
"Throughout the years – technology may change – but our attention to detail, people, and caring for their goods never changes. That is what we can continue to do … Serve our customers with attention to detail and help them "Every Step of the Way."