Are you getting ready for a big move? Maybe you're buying a house in Cleveland, moving into a new apartment, or moving closer to family or friends. No matter what's prompting your move, you probably already have a to-do list a mile long.
Relocating is one of the most stressful things we ever do with an overwhelming amount of planning, preparation, and hard work. Hiring local movers in Cleveland is a great way to get the professional help you need, but you may be hesitant due to the cost.
How much do movers cost in Cleveland, OH? Local movers charge an hourly rate so your cost is based on how long it takes to finish your move. This means you can do as much of the work yourself as you want and get help with the hard stuff.
We'll go over the big factors that affect Cleveland moving costs to help you create a moving budget and control costs. Just be aware this guide applies to local moves usually defined as within 25 to 100 miles. These are moves completed same-day by the same crew, usually with an hourly rate. Long-distance moves are different and typically have a flat rate.
8 Factors Affecting Your Cleveland Moving Costs
There are many factors that must be considered to give you an accurate moving quote. These are not the only factors that need to be considered and you may have other costs such as insurance, packing supplies, and possibly fees for certain services.
Distance
To give you an accurate quote, the movers will need to know the address of your origin and destination. The distance will need to fall within their local move limit for hourly pricing. Don't forget that you will pay the hourly rate for travel time between your origin and destination.
Volume of Belongings
How much and what are you moving? This is the most obvious factor and one of the most important.
When you request a moving estimate, the company will ask how many rooms are being moved. This is used to give you a general estimate, but a virtual or in-person assessment will be needed to give you an accurate moving quote. The moving company will consider the typical items and volume of belongings in the types of rooms you're moving.
To reduce your Cleveland moving company cost, get rid of anything you don't want to pay to move. Remember that some items require extra time and may need additional movers like pianos, heavy items, appliances, large furniture, and fragile items.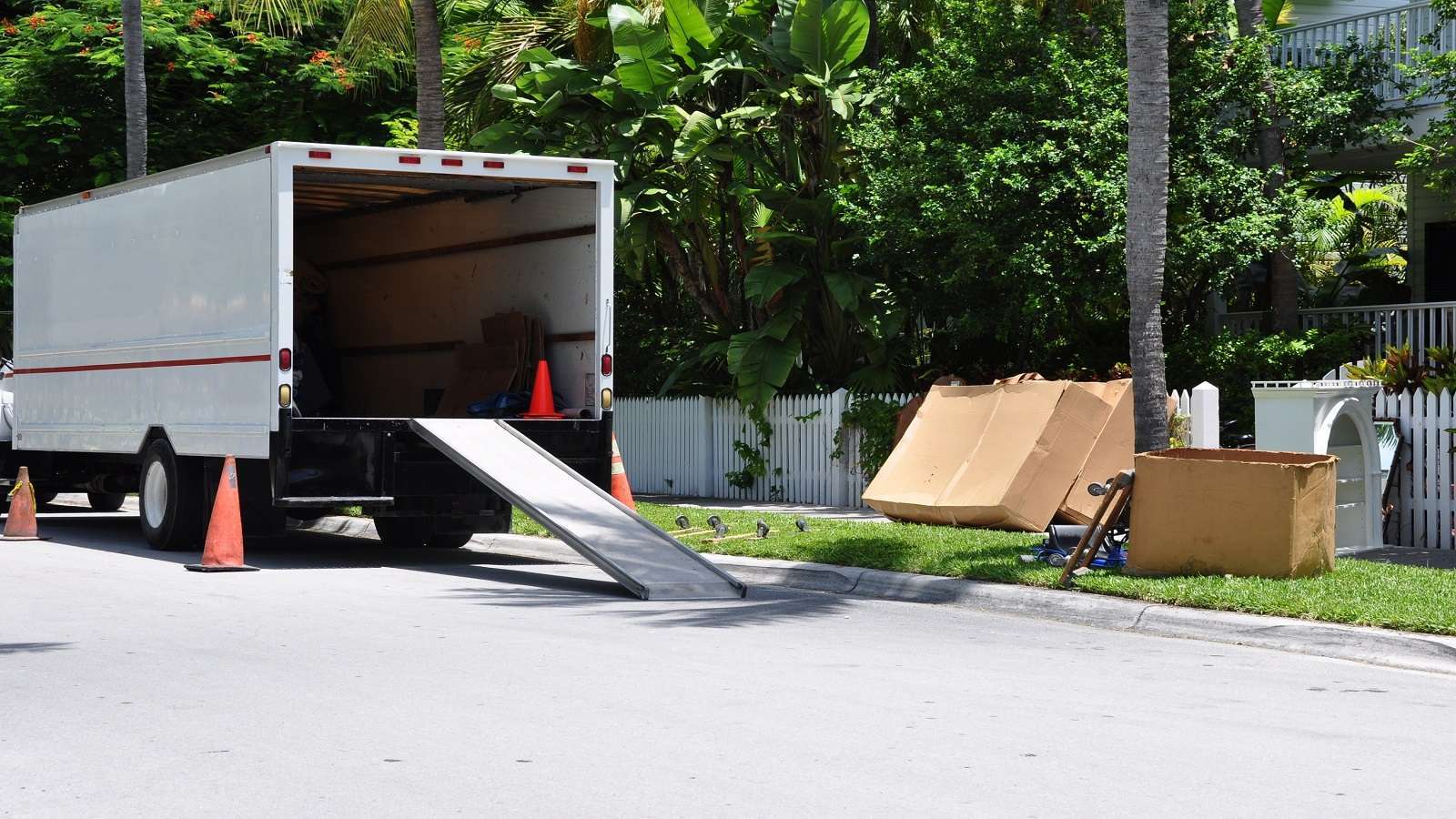 Accessibility
How easy will it be for movers to carry items between your home and the truck? It's a factor that's frequently overlooked, but it plays a big role in how long your move takes and your total moving cost.
If you're moving a house or townhome, can the truck pull up to a garage or front door or does it need to be parked farther away? Do you have a single-story home or stairs? Are there narrow halls, doors, or stairways?
If you're moving an apartment or condo, there are a range of factors that affect accessibility and the time your move takes. Elevators take longer than stairs, but stairs are more exhausting for movers. Consider how close your unit is to the elevator or stairs, the floor you're on, and other unique concerns. Your building may have a service elevator that needs to be booked or a loading dock that must be used.
Number of Movers
How many movers will be needed to move your home as efficiently as possible? The number of movers will affect the hourly rate you pay. Standard moving rates in Cleveland usually include two movers with extra movers available for a higher hourly price.
The moving company will help you decide how many movers will be best for the volume of your belongings and home type. Choosing the right number of movers helps keep your cost as low as possible!
Moving Dates
Did you know the day you move and the time of the year and month can affect your Cleveland movers cost? You can get lower moving rates by moving during the off-season or less busy times.
Rates are usually higher at the start and end of the month when most people are moving
Moving during peak season or April to September is more expensive than early spring and winter moves
Moving rates are usually lowest on Monday through Thursday with higher moving prices on weekends
Storage
If you need to temporarily store belongings during your move, make sure storage is included in your Cleveland moving quote. This is easier and more convenient than self-storage because you don't need to move twice and warehouse storage can even be more affordable! Your belongings can be delivered to your new home once you're ready.
Specialty Items & Services
Items that take longer to prep, pack, or move will add to the cost of your move. Depending on the moving company, certain items may be priced separately with a small extra fee. Consider whether any items will need custom crating, a larger crew, or more time to move.
Are you going to do the packing yourself or do you want full-service local movers in Cleveland to handle the packing for you? Maybe you're comfortable packing up most of the house but want professionals to take care of the fragile and tricky items.
Packing services are usually provided at the same hourly moving labor rate plus the cost of materials. You can save time and worry with belongings packed carefully by experts.
Partial packing is a great compromise to save money on Cleveland moving costs while still getting the help you need. For a more hands-off solution, consider the extra cost for full packing and/or unpacking solutions.
Benefits of Hiring Movers vs DIY Moving
Moving is more stressful and challenging than you may think or remember. A recent nationwide survey found 43% of respondents who did their last move DIY said they would never do it again. 94% of people said hiring professional movers was worth the cost.
Here's why the hourly rate for Cleveland movers is worth it:
A professional team arrives with the supplies and special equipment necessary
Professional packing techniques reduce the risk of damage
You don't need to do any heavy lifting or risk getting hurt
Moving day is fast, easy, and efficient
The truck will be loaded securely to prevent shifting in transit
You don't need to rent or drive a large moving truck
Furniture assembly, arrangement, and unpacking services make your new home move-in ready
You save countless hours on top of worry
Average Moving Costs in Cleveland OH | Cleveland Moving Estimates & Calculator
Estimating your Cleveland, Ohio moving company cost for a local move isn't as difficult as you may think. The bulk of the cost is the hourly movers rate. To estimate your moving cost, you will need to estimate the number of hours it will take a crew of movers to complete your move.
Once you know the level of service you want and any extra services, you can request a personalized moving estimate. What do movers charge per hour in Cleveland? It depends on the number of movers. Nationwide, the average hourly rate is $25 to $50 per hour.
You will get a quoted hourly rate that includes a specific number of movers, usually with a minimum number of hours. You can add additional movers for a highly hourly rate. This can actually save you money on larger or more complicated moves because they can work more efficiently and keep the total hours as low as possible.
Here are some guidelines to help you estimate your cost and prepare a moving budget.
How much does it cost to move a one-bedroom apartment in Cleveland?
A studio or one-bedroom apartment usually requires a team of two movers about 3 to 6 hours. The standard movers rate usually includes two movers so you can multiply the rate by 4 or 5 for a general idea of your hourly moving cost.
How much does it cost to move a two-bedroom apartment?
A larger two-bedroom apartment or home will take a team of three movers about 6 hours to move. You will pay a somewhat higher rate for a larger team, but it won't take much more time than a smaller apartment.
How much does it cost to move a house in Cleveland?
The size of your home and type of rooms will affect how long it takes to move. A small home may take 4 to 7 hours with a team of four movers. A three-bedroom home will be on the higher end of this scale. For a larger home, you may need to pay for a team of four or five movers for 9 to 12+ hours total.
Tips to Save Money When You Move
Be prepared when the movers arrive. If you're packing yourself, make sure it's done before the movers arrive. Don't try to save anything for the last minute because it will likely add time (and money) to your move.
Sell or donate items you don't want to take.
Do as much of the packing and prep work as you can yourself. You can disassemble furniture, disconnect appliances, and do at least some of the packing.
Stack boxes or items close to the front door or in the garage to reduce the number of trips up and down the stairs.
Be flexible with the day and time to get the lowest rate. You can save money when hiring movers on the weekdays compared to the weekend.
Check to see if moving costs are tax deductible in your state.
How to Choose the Best Cleveland Moving Company
Remember that price isn't everything when hiring moving companies in Cleveland. Do your homework to avoid the headache of hidden fees, damaged items, and other problems by looking for a company that checks all the boxes:
Licensed and insured
Years of experience
Background checked and trained movers
Positive reviews without concerning BBB or FMCSA complaints
Dedicated fleet of trucks with specialized equipment
Low claims rate
Services you are looking for
Transparent moving rates without hidden charges
Summit Moving & Storage is dedicated to Helping You Every Step of the Way℠. Our family-owned moving company in Cleveland has proudly earned hundreds of positive reviews on Google with a history going back to 1930. Our friendly, trained, and vetted movers have completed over 100,000 successful moves and look forward to serving you!
No job is too large or small. We can even help with small moves such as rearranging or setting up furniture, moving furniture for contractors, or storage unit move-in/move-out.
Additional Cleveland Moving Tips
Reduce the stress and worry of your move with these tips.
Try using a moving app to stay organized, keep an inventory of box contents, and sell items you aren't taking.
Use a moving binder to keep your contracts, leases, receipts, school records, checklists, and more in one place.
Want to tip the movers? A good guideline for tipping movers is $5 per hour per mover or $25 per mover.
Have your utilities turned on or transferred in advance. Your electricity and water should be turned on at least a few days before move-in. Here's a complete guide to Cleveland, OH utilities with steps to take.
Download our free Ultimate Moving Checklist to make sure nothing is forgotten.
Ready to get started with your moving day plans? Give us a call at Summit Moving & Storage for a free, personalized moving quote! We'll help you understand these factors affecting your moving cost and give you an affordable, competitive rate.